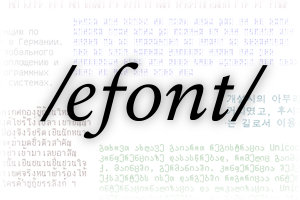 efont-serif
---
Download
License
The license of efont-serif is currently GPL. Please feel free to send any comments or suggestions to /efont/ Mailing list.
Features
The efont-serif is REALLY free and open electronic font.
The Omega Serif and URW Nimbus are also distributable. But their letterforms are quite similar to Adobe Times. The efont-serif copies neither outlines nor letterforms of any copyrighted typefaces.
LaTeX
'efont-serif for TeX' is under development. [screenshot]
Required files for LaTeX system are in efont-seri-tex package.
---
$Id: index.html.en,v 1.14 2001/04/18 03:03:45 kazuhiko Exp $